WINCHESTER, VIRGINIA:  HOPPING INTO THE 21ST CENTURY
Winchester was another of our "throw a dart, find a brewery" weekends this year.   The Beer Mapping Project helps enormously in finding what's near the spot where the dart lands.   When we last visited Winchester only five years ago  the only brewery was an extract fermenting brewpub that, well, did the best it could at the time.   Our return found a thriving craft beer culture and a nicely representative range of 21st century breweries.
A good Winchester crawl will leave you unable to drive even if you can find your car.  Our two recommendations are to stay a few miles out of town and Uber in and out or splurge for a room at the Grand Hyat-ized George Washington Hotel smack in the center of town, where with a good pair of shoes and a break in the weather you can walk to all three of the town's breweries.
We started our crawl at Alesation, the newest of the trio, located very centrally on N. Loudoun's  pedestrian mall section.   The brew kit is less sophisticated than most on the market today – the centerpiece is a pair of 3 barrel soup pot looking heavy stainless steel vats.  We've had good beer from this system, or systems very much like it.  Braddock's Brew Gentlemen's brew house looks almost identical.   Alesation is doing well with some of their beers and seems to be having some temperature issues that gave some of the beers an edge, though we tasted no indication of infection.   The dark beers are the best.
The brewery and tasting room is upstairs from a pizza restaurant, and you can have food delivered from downstairs.   It's good predictable Italian pizza-centered cuisine.  They're not going to win a Michelin star for the food or a GABF gold medal for the beer, but that's not the point.   The staff is wonderfully friendly and everyone seemed to be having a great time.   Of our three stops, this was the one where we had the hardest time finding a seat, though within minutes, a group at a picnic-style table squeezed together to make room for us.   A couple of minutes more and we had our new best friend for the weekend. He recommended the BlueWhistle for breakfast and we wound up meeting him there too.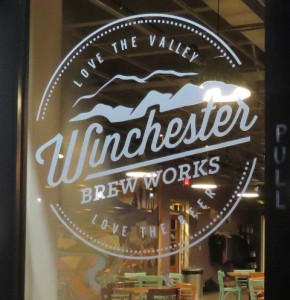 An easy walk away from the center of town brought us to Winchester Brew Works.  Founded and still run by a pair of engaging and enterprising women, it features a sparkling stainless steel brew house and plenty of room for events in the tasting area.   If you're lucky the owners will be there pouring beers – they're knowledgeable and passionate about their craft.  We were surprised there weren't more people there on a Friday night, but were assured that they nearly filled for some of their promotions.  Eat elsewhere, they have no kitchen.
The brewer's background in science pretty much assured what our friend and founder of Old Dominion used to call "biologically stable beer."  Beyond that they varied.   It was interesting though that of the first few beers we tried Ellie liked some and I liked others, but it wasn't until we got to the bigger beers – in hops, booze or both—that we agreed.  A juicy session was very approachable.  The star of the night was the double dry hopped Morgan Run Black Ale – more details on that are forthcoming in a beer of the day.
Our final stop was Escutcheon Brew Works.  We had had their beers at festivals in Northern Virginia, so we weren't surprised to see a pretty sophisticated operation there.
 The tasting room can accommodate a few busloads of boozers, but the bar is a comfortable place to drink and the people are Winchester-friendly.
The most unusual feature was a concrete fermenting vessel that they affectionately referred to as their "egg."  They couldn't tell us exactly what the egg was supposed to do, but there's no doubt that the one beer we tasted that had been egged had a distinctive range of flavors.   The APA was sweet and sugary with plenty of diacetyl that reminded us distantly of Samuel Smith's Yorkshire slate beers.  We assume there's something going on inside that egg to make it happen.
They told us there were several wineries in the US using it, but no more than a half dozen breweries.  We'd never seen anything quite like it.
Beyond the egg, the beers were approachable if a bit sweet.   Their brewer isn't the usual brewing hop head and has only recently bumped up their flagship Plimsol IPA to a higher IBU.   It's not the first time they've played with the Plimsoll – we've had several versions that were flowered or spiced. A version dry hopped with Hull Melon was quite good.   Their current "redux", though, does show the hops more than most of the others.
Before you leave town, be sure to pay a visit to Murphy's Beer and Wine back on the main pedestrian street up a few blocks from Alesatian.   We've known owner Charlie Fish since she used to sell our Hop Pocket Ale, and she's played a significant role in helping Winchester edge into the 21st century of beer.
   She's always been supportive of craft and local brewing and though the selection isn't as massive as a Total, the carefully chosen selection of beers are in good shape; you're almost certain to find something interesting you haven't tried before.   (Hopping Around Post #0032)
See our "Beer of the Day" – March 18-25 for comments on beers from these Winchester Breweries.