Guinness Brewers Project Offers a Walk Though the History of Porter and Stout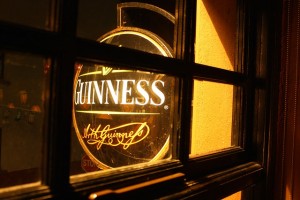 For many years Guinness achieved its place as one of the world's largest brewery by specializing in one product.  Although there were a few variations, for the most part if you just ordered "Guinness" you would know what you would be served.   Its success stemmed in part from an aggressive and skilled marketing approach in much of the non-European world.   It's success in the UK stemmed from its strategy of not owning pubs, but selling its unique product to pubs owned by the other major brewers.
Most casual observers were unaware that the bulk of the shipped overseas came from Guinness's largest brewer – in London.   In 2005, however, Guinness closed that brewery and transferred production to a vastly expanded St. James Gate brewery in Dublin.  New construction at that plant led to a radical departure from the conservative path they had followed in much of the 20th century.
Guinness has dedicated a part of its new brew house's production to producing beers that are decidedly different from the one size fits all.   Iin these days of craft revolution, Guinness has decided simultaneously  to dramatically expand variety and go back to its brewing roots.  We first encountered a new range of Guinness beers sold in small stores in Nottingham, England.   They've now crossed the pond and are worth seeking out.
            We tasted five of the Guinness stouts and porters in an evening recently.  It was an experience we strongly recommend if you're lucky to find the packages that offer the variety.   Dublin Porter, Guinness Draft (bottle). West Indies Porter, Guinness Foreign Extra Stout, and Antwerpen Stout (sold in Belgium as "Special Export").   We've had them all before, but the chance to taste them in sequence was a delight.   See our "Beer of the Day" blog for our tasting notes on each, but we'll do some overall comparisons here.
It wouldn't be that hard to write a book on the history and varieties of porters and stouts.  You can find much more depth of information than we have space for here on Martyn Cornell's Zythophile blog.  Cornell is one of a small chorus of voices that has changed our understanding of the style and helped to bury a host of myths that were accepted as gospel truth for generations.
Porter, as we know it, developed as a commercial rival to the increasingly popular pale ale style.   "Stout" started as an adjective – a "stout porter" having more substance, and presumably more alcohol, than the regular one.   Somewhere along the way, stout because a noun – a dark dry ale.   The current beer revolution has revived more interpretations of the style than the early brewers of it could have imagined.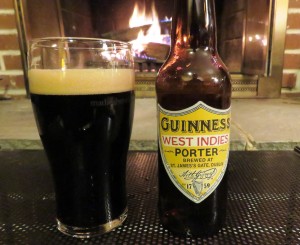 Today distinctions between stout and porter are largely meaningless. This group featured low alcohol porter and stout and relatively high alcohol porter and stout.   Any differences in color were imperceptive without a flashlight.  The stouts did seem to be a bit drier and slightly less fruity.    For fun, we added a coffee porter and a chocolate stout to the table and dug out some notes on a cherry porter we encountered in Germany about a decade ago.   ("Porter" is not "bier" and therefore not subject to the Reinheitsgebot.  It wasn't nearly as good as most of the craft beers we've sampled lately.)  Other than the Cherry Porter, they were all pretty good.
The Guinness variety is a walk through history.  We began our tasting with Guinness's London Porter, a 3.8 recreation of a beer Guinness claims to have brewed in 1796.   It's a believable "porter" since the term porter originated because of its popularity among manual laborers in the streets of London.   Lower alcohol kept them on their feet, while higher caloric contend gave them needed nourishment.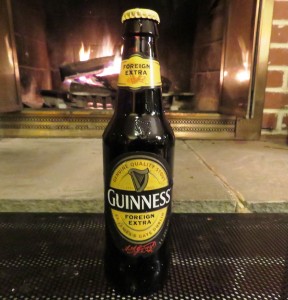 The other porter in the series is the West Indies Porter which weighs in at a hefty 6.0%.  Higher alcoholic content made the beer sturdier for transport to and consumption in the West Indie and apparently Guinness had established a pretty good hold on the market there by the early 1800s.   Foreign Export Stout was first brewed in 1801 and had opened African markets at least by the 1820s.  
The next two require a big jump in history.   The Antwerpen stout is the strongest of the bunch at 8%.  It's the same brew that's been sold in Europe for half a century under the name of Special Export Stout.   They chose the name because they first sold it in Belgium, presumably entering through the port of Antwerp.   But it's a fairly recent entry since the first of it made it across the channel shortly after World War II.
Guinness Draft is a variation of the Guinness you'd get in a pub.  A huge breakthrough for Guinness began in 1959 when it introduced the nitrogen that created its legendary head.  In 1988 it was the first brewery to introduce the "widget" that created a nitrogen head on beer from a can. 
A widgetized bottle followed in 1999 and that's the one they chose to put in the mix.   Guinness intends for people to drink it straight from the bottle.   We tried it both ways.  It's a smooth beer and drinking from the bottle gives it just a bit more of an edge, but we preferred the smoothness of the glass pour.
Guinness isn't saying right now what's next but they do suggest there will be more variations forthcoming.   We hope their blend of history and innovation continues.
News Flash:  GUINNESS WILL OPEN A NEW BREWERY IN BALTIMORE COUNTY!
Guinness's parent company, Diego, has announced plans to open a Guinness Brewery in Baltimore County.  It will brew more innovative brews, presumably like those featured in this article as well as out of the box additions to the Guinness lineup such as Guinness Blonde.   It will have a tourist center with similarities to the Guinness Experience in Dublin.   Located just a couple of miles from the Heavy Seas Brewery, it could be part of a very entertaining beer crawl.  They're using buildings that once produced whiskey, so they expect a pretty quick turnaround with an opening this fall.