GUINNESS BREWERS PROJECT MARRIES TRADITION WITH INNOVATION: LONDON PORTER IS ONE OF THEIR BEST
GUINNESS LONDON PORTER   Guinness St. James Gate Brewery, Dublin, Ireland    Abv  3.8
 Guinness dedicated at part of their new Brew House No.4 to producing "The Brewers Project" series.  Some of the new creations coming out of this project are based on historic recipes.   See our main post for more details.
Today's Beer of the Day is one of the Brewers Project Beers, London Porter, a recreation of a late 18th century recipe.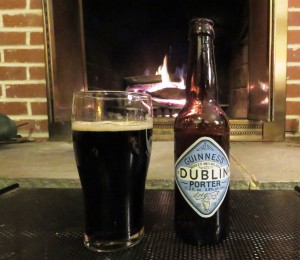 Tasting Notes:  Coffee and chocolate in the aroma form a welcome committee.  At 3.8% it's should be a lightweight, but it packs plenty of flavor and a body far more substantial than expected.  A clean milky feel ushers in an ashy and dusty finish.  Some roasted chocolate and a milky (2%) rather than a creamy feel.    There's just a bit more fruit and less dryness than in the Draft Guinness of about the same strength, and, of course, it has a regular CO2 foam and head.
We thought it was an exceptional beer.  Ellie the Hop Head remarked "Who needs dank?" as she reluctantly set down the last of the glass.
* Skip It
** Good Craft Beer
*** Well Above Average
**** Exceptional
***** Top 1%
Rating: **** Value: *****   20170131