WINKLER ALT AMBERGER HEFEWEIZEN: BIG FLAVOR IN A SMALL TOWN
Winkler Alt Amberger Hefeweizen, Amberg, Germany  abv 5.2%

                We're pretty sure Amberg has more breweries than gas stations, though not quite as many breweries as churches.   Although the number has dropped from just under twenty to five, it's still a remarkably good town for a couple of days of pub and brewery crawling.
The Winkler brewery has a small restaurant tap room inside the moated area of Amberg.  It's an easy walk to or from the other three central Amberg breweries.   It also brews a distinctively different line of beers for the former Schliessl brewery, which still maintains a tap room a short distance away.
Yesterday we highlighted the unfiltered Zoigl, which was a rare style when we first encountered it in 2008.  Today our focus is on Winkler's Hefeweizen.
German beers are not nearly as monotonous as some beer geeks claim.  You have to be willing to ponder relatively small disparities, but different areas of the country – and even different areas of a state as large as Bavaria—produce variations within styles that are fascinating to ponder.  Since a good many of these beers are served in half liter mugs or glasses, there's plenty of opportunity to meditate on different interpretations of the style.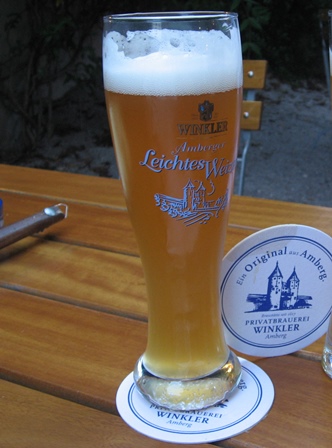 Hefeweizens vary about as much as any of the standard German styles.  As we noted in our Hofbräu post a few days ago, they range from fairly sweet with clove and banana, to a drier yeastiness showing black pepper and very little of the banana.   Winkler's version is typical of many in Franconia, sweet with plenty of clove and very evident banana flavors.  We prefer the drier, peppery, versions in the south of Bavaria, but we respect the skill that goes into making a hefeweizen like this one.    A clean lemon flavor emerges from the wheat, and the lack of filtration allows it to shine.  Ellie found a suggestion of bananas Foster in the finish.
German hefeweizen beers, by the way, are NEVER served with a slice of lemon.   Brewers and tap rooms began to add lemon slices to filtered Kristal Weizens after WWII since filtration stripped them of so much of their flavor.   Better techniques mean that today, lemon is unnecessary even for the Kristal ("glass") Hefeweizen beers.  
* Skip It
** Good Craft Beer
*** Well Above Average
**** Exceptional
***** Top 1%
Rating: *** Value: *****      20170128