THOSE WHO

CAN

TEACH…BREW.
I have a great deal of respect for Mikkel Borg Bjergsø.   He and I have both spent a great deal of our time in classrooms teaching school.   We both really like beer.   We both established award-winning contract brewing companies and set new standards for brewing.   There's a huge difference between us, though.  I took the safer path—and also the more family compatible—and, when a choice became necessary, took the classroom over the brew house.
Mikkel went all in for the beer, moving beyond his early base at De Proef in Lochristi, Belgium, he's brewed hundreds and hundreds of different beers at other people's breweries all over the world.  His several beer bars in Copenhagen are among the best in an excellent beer city and he's opened more all over the world.
His several beer bars in Copenhagen are among the best in an excellent beer city and he's opened more all over the world.
But Mikkel (no one ever seems to refer to him by his last name), has gone far beyond his original Danish roots.   He's opened up Mikkeller bars not only in Europe (Berlin, Stockholm, and Barcelona), but Asia (Seul, Bankok, and Taipei) and, at last, a major push into the United States.   In 1913 he opened Mikkeller SF, a taphouse and bar in the Tenderloin district of San Francisco.
A couple of years later he partnered with Alesmith to open his first physical brewery.   Alesmith one of the great early West Coast pioneers, was moving to a facility capable of brewing ten times as much beer as the original 25,000 bbl. brewery.    That original Alesmith brewery is now Mikkeller Brewery, San Diego, pouring out a wide range of regular and one-off beers.  Mikkel is still traveling and producing contract beers all over the world, but he spends enough time in SD to welcome many of his brewer friends to collaborate on his home turf.
Any beer tourist who hasn't visited at least a couple of his bars and taprooms isn't trying.   Mikkel doesn't run all the good beer spots in Copenhagen, but he's now the largest part of the exciting beer scene there.   His original bar is at Viktoriagade 5, an easy walk from the main train station.   Mikkeller and Friends  is in the Nørrebro section of Copenhagen, an easy bus ride from the center and then a few blocks walk down Stefansgade to number 4.   (More details about these places are in our book.)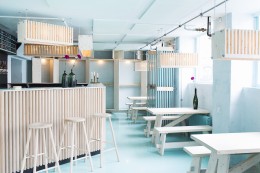 On your way, pay a visit to the Nørrebro brewhouse, one of Copenhagen's brewing pioneers and still one of the best places to find local dishes and good fresh beer.   (Bring money, and if you're really on a budget you should be in Barcelona, not here.)   An easy walk from the original bar can take you to Warpigs,  a joint venture of Mikkeller and Three Floyds of Indiana.   An American chef turns out authentic BBQ which you can wash down with close to two dozen different beers.  Most are brewed on premise, but there are a few Mikkeller guests.
Last June in Copenhagen, he opened the Mikkeller Barrel Room on the water on Refshaleøen,  an annexation to Amager that used to be a stand-alone island with industries that included a shipyard that included a shipyard employing 8,000 Danes.   The Barrel Room not only serves barrel-aged beers, but serves as a small museum, educating visitors in the nuances of barrel aging.  It's not central, but the 9A bus from Tivoli gets you within a 10 minute walk in fifteen minutes.  Note that it's normally open only on weekends in the summer.
We visited the Mikkeller bar in Barcelona last summer as part of the research for our second book, which will show travelers how to find very good beer in tourist destinations where they don't expect it.  Barcelona has a dramatically vibrant craft beer scene.   We sacrificed seeing most of the tourist sights to try to make it to all the important beer sites.  We fell short despite allotting several days to the task.   Mikkeller is easy to visit, however, and a stone's throw from many of the towns best bars and breweries.
For a giant international presence, the Mikkeller bar was somewhat understated.   When Mikkel designed the Mikkeller and Friends, he consciously tried to create spaces where couples and groups could meet and talk, but that also facilitated conversations with the group next to you.   That theme has carried over in his other outlets. ** Barce  Communal tables and lots of open spaces make it easy to strike up a conversation with someone next to you.  We were there on a weekend and it was a good deal less crowded than we expected. The light crowd allowed us to have a good conversation with the bartender — who was as knowledgeable and interested in beers and the brewing scene as one would expect.   Mikkeller seems to be a bit of an odd man out in Barcelona, where the main beer focus is intensely and loyally local, but the Mikkeller bar is testament to the vibrancy of the city and adds some nice breadth to a beer crawl there.  We had a chance to try our first beers from Warpig there—look for a review of one brewed with a "mash pit" of 93 different yeast cultures.  Amazingly, it worked out well.
We're waiting for Mikkel to find the East Coast of the US.   His beers are easily available here, though often pricy and not always as fresh, though sometimes that really doesn't matter.  In the meantime, "Just Go" find some Mikkeller beers from a part of his growing empire.   It isn't hard.
Overview:  I have a great deal of respect for Mikkel Borg Bjergsø.  We are both school teachers who love beer.   He, however, has yielded the classroom for full time campaign to bring really interesting beers to all parts of the world.  We've visited many of his bars, but he's opening them faster than we can travel.
SEE OUR "BEER OF THE DAY" THIS WEEK FOR SOME REASONS TO GO TO ITALY THIS SUMMER!