RIGHT ON THE MONEY, THIS BARLEYWINE IS NO DOG

DOG MONEY BARLEYWINE, LEESBURG, VIRGINIA   Abv 11.2%
Dean Lake has worked for a number of breweries in the past couple of decades and he played a role in turning out some of the great beers of the glory years of Tuppers' Hop Pocket when he was with Old Dominion.    He's landed with full creative control at Leesburg's Dog Money, which has had as many lives as dean has had jobs.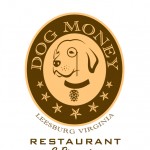 He's a good brewer whose specialty has been in quality control and we're looking forward to finding a chance to try a full range of his beers.
If you've been following these beers of the day you know that we've been tasting our fair share of barley wines this winter.  Even in the context of pretty strong competition, this one from Dog Money is a winner.  In full honesty, Ellie and I didn't see completely eye to eye on this one.  She ranked it in the top third of beers we've tasted in the last year, but for me it rose well into the top ten percent.  For both of us, though, it made us eager to plan an upcoming trip to Leesburg for more of Dean's work.
Tasting notes:  Oh so rich thick and creamy, it shows chocolate, more chocolate and a touch of mint coffee and wine at the end.   The chocolate rests on the tongue until you are compelled to return.  Some dandelion and stone fruit as it drinks.  Ellie found it a bit hot, and there's certainly booze there.  Even I will agree that it's not the smoothest beer on the planet, but for me the fullness of the body and the richness of the chocolate malt make the return way too easy.
Food Pairings:  The first barley wines were intended to be replace table wines during a meal, but we think this would overwhelm most main courses.  Save it for desert—it's hard to go wrong with a distinctive local cheese—or just enjoy it on its own as a digestif.
Beer Review # 0092    20170328
TOMORROW – ANOTHER GEM FROM OUR RECENT TASTING NOTES