NUTS TO THIS BREWERY:  ALMOND'22 A PIONEER IN ITALY'S EXPLODING CRAFT BEER SCENE

Irie, Almond'22, Pescara Italy,  Spiced Golden Ale 5% Abv 
                Almond'22 beers immigrate to America with some frequency.   They tend to be adventurous and expensive. We've had pink peppercorn and smoked ales from them in past years.   On its home field, however, the brewery offers more standard offerings and this spiced golden ale – really a Belgian-style wit—is one of them.  Beers like this are a good reason to leave the oh-so-tempting American craft brew scene and sample some of what the rest of the world is up to.
The brewery got its name from the building it occupies.  In 1922 ranks of low wage women workers toiled to peel the rich almond harvest from the surrounding area.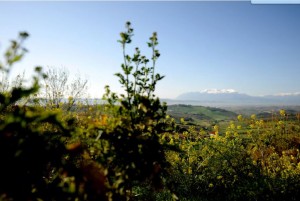 The brewery's  founders chose the name as a tip of the hat to them. While many of Italy's cutting edge breweries are in the north, Almond'22 is located near the coast in Pescara in Abruzzo, a province stretches from the Adriatic to the Apennines in southern Italy.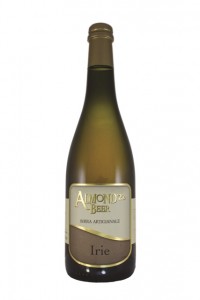 Tasting notes:  The brewery calls its Irie a "chiara", which literally means "clear."    This most certainly not, and the term can actually refer to any light colored brew.   It's basically a wit beer with lots of flowery and fruity tastes.  Plenty of yeast remains in the beer, which is fortunate, since this strain of yeast is a perfect match for the hop and malt flavors.   Oranges, peaches and roses all take turns in this chalky, tasty and interesting wit-like beer.  The brewer says there are flavors of rhubarb "without the characteristic sourness."  Maybe it has; I surely wouldn't know.
It is a good drinkable wit style beer that we tasted for an affordable $4 for a small glass at Florence's Beer House Club.  Not exactly German Bier Garten cheap, but a good deal easier on the Visa than the large bottles that make it to America.
Food Pairings:  The brewery recommends pairing with fried fish, fried battered vegetables, Parma ham and melon, wiener schnitzel or tempura.  Our first wit beer was paired with a peanuts in a silver dish only a few miles from the Hoegaarden brewery back when it was the Hoegaarden  brewery.  We've dreamed of repeating it ever since. Beer Review # 0108    20170506
NEXT WE'LL STAY AT THE BEER CLUB HOUSE FOR ANOTHER RARE ITALIAN BEER, THE WALL'S FIRE WITCH