MIKKELLER AND DE PROEF; SAFE HAVEN FOR A GYPSY

Nelson Sauvignon Single Hop Ale,  Mikkeller @ De Proef,   Abv  9%
As noted in our main blog post this week, Mikkel, of Mikkeller, has brewed all over the world.  He got off the ground, however, at the Flemish brewery of De Proef in Lochristi, which describes itself as a "brewery for rent."  Theirs was a brilliant concept, and while De Proef has brewed some of its own beers over the years, it has brewed literally thousands of distinctive beers of for beer restaurants, fledgling breweries and even some established breweries that wanted to play with someone else's' toys to make especially funky Belgian beers.  CAMRA's Tim Webb, one of the world's foremost experts on Belgian beer, once complained that the De Proef beers were too numerous to really evaluate effectively, but too high quality to dismiss.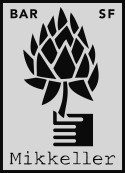 It was a perfect incubation venue for Mikkel to crank out the dazzling array of beers that has the the hallmark of the Mikkeller brand.  With batches as small as ten hectoliters, he could take risks that bigger breweries couldn't even consider.   Once he opened his bar in Copenhagen, he had a brewpub-like outlet for one-offs and out of the barrel unique brews.
Today we highlight a beer he brewed at DeProef in 2010, Nelson Sauvignon Single Hop Ale.  Nelson Sauvignon was a difficult to obtain hop a decade ago, and it achieved something of a cult status before produces were able to respond to the unexpectedly high demand.   The hops lends itself well to single hop beers: it always manifests a white-wine grapeyness, but depending on how it's used it can also include some melon, lemon and a bit of not-too-excessive grapefruit.
Here, it's on full display in all its glory.  A later version, part of Mikkeller's single hop IPA series around 2009 toned it down a notch and cut the alcohol from 9 to just under 7, but they took no prisoners in this double IPA version.   We tasted in on draft at the Capitol Ale House in Innsbruck, Virginia, just outside of Richmond.
Tasting notes:  Full malt with a huge hop presence that includes more grapefruit and pineapple than you usually get with Nelson.  Slight sugars in the malt, but the big malt is necessary to support the shiploads of the Nelson.
Food Pairings:  The overall balance makes it a bit more flexible in accompanying a meal – chicken or spicy Asian dishes would pair well.   Of course this is kind of irrelevant because unless Mikkel chooses to brew it again, none of us will be pairing it with anything. Beer Review # 0106    20170415
ON MONDAY WE'LL FEATURE SOME ADDITIONAL HOME RUNS FROM MIKKELLER (AND SEE OUR "HOPPING AROUND" POST THEN FOR MORE ON MIKKEL'S IMPACT AROUND THE WORLD.