Hofbrauhaus Pittsburgh's Hefe Weizen is a Strikingly Echt Experience
:      Hofbrauhaus Pittsburgh Hefeweizen        Abv  5.2 
               Hofbrauhaus Pittsburgh's Hefe Weizen, if you close your eyes, is a bargain airfare to Bavaria.  "Echt" means "authentic" in German and a good many German Breweries incorporate the term in the names of their beers.   Hofbrauhaus Pittsburgh doesn't, but it surely could. A "best" hefeweizen is a matter of taste, but it's not hard in the US to distinguish between "believably authentic" and "woops the brewer doesn't really know what these are supposed to taste like.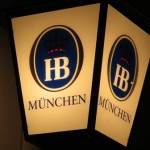 We don't know of a popular German style of beer that varies as much from brewery to brewery and from region to region as Hefe Weizens.   South and east of Munich there's almost no perceptible banana or bubble gum, but in small villages further north the banana can be pronounced.   We are fans of the Southern Bavarian weizens that sport more pepper than clove, but can understand the charms of a well-balanced version with more banana and clove.          
Hofbrauhaus Pittburgh is somehow able to include a huge range of weizen estery flavors and aromas and keep it all in good balance.  Banana shows up early in the aroma, but steps back as it drinks to allow clove and some pepper to shine.   A chewy pale malt has enough wheat in the mix to add a soft note of lemon before more spice brings up the end of the parade.
It helps to have the expertise of one of Bavaria's larger breweries, but whoever is manning the kettles at this American outpost is earning his salary and more.   This beer is at least a match for the weizens of Munich and one of the very few wheat beers to break into our top 10% of tastings in the last year.
Tomorrow:  More Echt in the Original 
* Skip It
** Good Craft Beer
*** Well Above Average
**** Exceptional
***** Top 1%
Rating: **** Value: ***** 20170122