A HOPPY HOUR IN UPSTATE NEW YORK

Saranac Hoppy Hour Hero Moe.saic IPA, – FX Matt, Utica, New York   Abv 7.8   IBU  75
               Ellie and I attended Hamilton College in Clinton, she when the women's part of the school was called Kirkland College.  F. X. Matt was the local beer in the late 60s and it continues to hold a special place in my heart of beers.   Back then we drank enormous amounts of Utica Club and a good deal of Matt's way-above-average Cream Ale.   Before Ellie graduated in 1972, Matt had introduced strong cream ale called Maximus Super.  At 7.5% abv, it was the strongest beer produced in the US at the time.; on campus it quickly acquired the moniker Maximum Stupor; I liked it because it was strong, Ellie liked it because it was sweet, but we both respected a big batch brewery effort's to brew something distinctive.
Today, the brewery that cranked out the kegs and kegs of yellow beer that powered fraternity weekends is producing over a quarter million barrels of very good craft beer under the Saranac label.
One of the best Saranac products is Hoppy Hour Hero Moe.saic IPA, a year-round regular whose 7.8% abv actually tops the Stupor's short-lived record.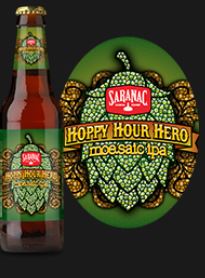 This one however, has a myriad of tastes that no one would have dared tried to market in 1970.  Today the fraternity houses at Hamilton that probably helped keep the brewery in business in the tough years of the 60s and 70s are gone.  But we know for a fact that plenty of Saranac finds its way to the hill without their help.
Tasting notes:  Despite enough malt to approach the 8% mark, this is a hop show.   Too clean to really qualify as dank, but it's on the road to New England with flavors of orange, clementine zest along with a sweet malt and a hint of raw sugar.  A late lasting bitter invites a return.  In a way it's an understated big kettle Heddy — and a nice job of it at that.
Food Pairings:   Big IPAs match well with spicy foods since they hold their flavors even in the midst of fire – Buffalo wings originated in upstate New York and this Hero would match them well.  Beer Review # 0094    20170330
TOMORROW – ANOTHER GREAT FIND FROM OUR TASTINGS THIS WINTER