WHAT??  FROM SPARTA??? FLAROS at VORIA SESSION ALE– FROM SPARTA
 Abv  4.7%

            Our friend knows Greece inside and out.  She's led trips there, she teaches ancient history, there's really very little in this vast subject she doesn't know.  So it was a delight to surprise her by saying that some very good beer is now brewed in Sparta.   Granted, she has an Athens bias, rooted in the ancient world, that I think makes her see Sparta as the West Virginia of the Peloponnese.  [really important non sequitur here:  I am from West Virginia].   Voria Session Ale from Sparta is one of many stereotype busters pouring from one of Greece's best breweries.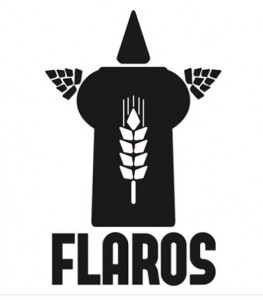 Voria brews some very nice beers, though some of them tiptoe into the mainstream waters.  But they produce a range of beers for Gypsy/Contract brewers that stretch their range and show off their talents.  We had the chance to taste several at Athens's best beer bar, the Local Pub
in the outlying area of Chalandri.  It's a haul by Metro, then a pretty long walk into town, but absolutely worth the hour or so effort to get there.  This pub will be a footnote in our "Beer near sights" book coming soon-ish, but if you're in Athens for more than a day or two, the pilgrimage is almost a requirement.
The brewery calls this Flaros an American Pale Ale, but the pump clip just says "Session Ale," for which at 4.7% abv it qualifies– these days anyway.   It's worth remembering that this "session" is only a small fraction of a percent less than the standard alcoholic strength around the world, Greece included.
Tasting notes:  It's quite full bodied for a session ale, understandably since it's almost not a session ale.  Lots of hops finish with pine and a very ripe stone fruit.   Late bitter hops.   Slightly sticky as it drinks.  You wouldn't blink if you were served this in either Portland.
Food Pairings: I'd love to try several of these with Maryland Steamed Crabs—or even the heads-on shrimp on board Flyt in Stockholm.  (see Drinking In the Culture).  But a good hoppy session beer can go as well with a burger or even the spices of Indian food.  [Beer Review # 0123  20170924]
NEXT (SEPT 26) WE'LL FEATURE Noctua Night Vision- probably the best beer brewed within the city limits of Athens.