NO MONKS WERE HARMED MAKING THIS BREW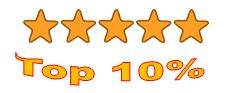 Monks Brew by Mikkeller at De Proef, Lochristi, Belgium    Abv  10%
Delirium Café is a sprawling complex of just short of a dozen separate boozy venues.  While some of them play with liquors and cocktails, most focus on beer.  The original café was downstairs just off the most touristy restaurant street in Brussels.  They added a draft house with several dozen beers on the ground floor and more recently opened the "Hoppy Loft" on an upper floor.   The Hoppy Loft is a bar for beer connoisseurs. Featured beers are hard to find, with exceptionally high quality and prices to match.  Some of the bar staff we've met there have been among the most knowledgeable of any we've encountered in Brussels.   In the summer it's hot, but rarely as crowded and noisy as the mob scenes on the lower floors.  It's a place we never miss when we're in Brussels.
Mikkeller's Monks Brew shows the Mikkeller-De Proef collaboration at its best.  We suspect that only stereotype drunken Monks would carouse with it, though.  We were more reminded of the chorus of a song that makes the rounds of Renaissance Festivals in the United States: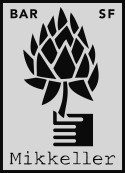 "Sod off I'm drunk,  Sod off I'm drunk.   It's been a long day, and I'm not a monk…."
And when I'm drinking this and realizing those monks aren't ever going to get any, I'm sodding glad I'm not one of them.
Tasting notes:  a green bottle gave us pause, but the barkeep assured us it was in good shape and he was right, as usual.   A rich dark raspberry filled the beginning with cherry stems coming along for the ride and some late wood barrel complexity.  It continued rich and fruity with a long aftertaste.  A touch of funk, of course– it's a Mikkeller out of the box powerhouse– but it's smooth enough to get past Ellie's sensitive acidometer.
Food Pairings:  Dessert the more complex the better.  The modest tartness of the barrel contrasts nicely with the sweetness of the dish.  Beer Review # 0107    20170417
THIS WEEK WE ARE FEATURING HOME RUNS FROM MIKKELLER (SEE OUR "HOPPING AROUND" POST FOR MORE ON MIKKEL'S IMPACT AROUND THE WORLD)