MOYLANDER DOUBLE IPA –  "NAUGHTY MONKEYS ON A VINE"

Moylander Double IPA,  Moylan's, Novato, California, Abv  8.5   IBU  90
This is another from our all-time favorite list.  We encountered it in 2006 not long after the Chainsaw we reviewed yesterday. A decade ago brewers had fewer hop choices; their skill in mixing and matching often determined the success of a beer.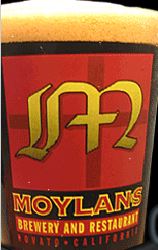 In an earlier review, we noted "Any brewer can make an extreme version of the style if he's willing to spend the money, and a good brewer can do a good one pretty reliably– the huge hop character and big malt base cover up a world of minor miscalculations.   But a really drinkable Imperial IPA is hard to brew," and went on to note how despite the hops, the brewer had achieved balance.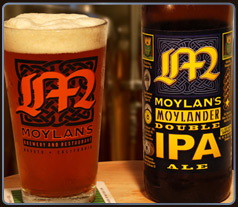 But a great double IPA doesn't require balance.  Sometimes greatness just emerges from the purity of the hop and the skill involved in using the hops in the right way.  Moylan's Moylander Double IPA doesn't even pretend to balance, but it is a truly exceptional beer.
The brewery's description is too wonderful not to include here.  "Fat and resiny, with aggressive hops swinging on an enormous malt backbone like naughty monkeys swinging on a vine."   The brewery website, by the way, is one of the clearest and most informative we've seen.  (http://www.moylans.com/site/pages/brewery/beer.php )
Tasting notes: " WOW!  Hoppy and intense.  There's a bit of toasty malt here and there, but this is a hop show and a big and lovely one.  Herbal, fruity and a touch of floral hops, but most of the hops give traditional grapefruit flavors.  They're big– fat and resin-y."
Even Ellie loved this unbalanced beauty.
Food Pairings:  We've little to add to our previous posts.   Salty, rich foods and big flavorful cheeses.  The Moylander will be there for you the whole time.  Beer Review # 0105    20170414
THROUGH SATURDAY APRIL 15 WE'LL FEATURE A FEW OF OUR FAVORITE DOUBLE IPAs OF ALL TIME.