GO TO ITALY FOR BEER? YOU BETCHA!
PBC  (Piccolo Birrificio Clandestino) Villa Serona, Livorno, Italy   Abv 6 
The Beer House Club is our favorite beer bar in Florence.  

There are many great beer bars in Florence, but we like the low key atmosphere, hugely knowledgeable owner-manager, and friendly international clientele.  Few of their beers were home runs, but there were no strikeouts and a good many doubles off the wall.  Next time there we'll tuck into their extensive bottle selection but the decabar (ten taps) kept us in drafts on our last visit.
PBC  is Piccolo Birrificio Clandestino, a brew pub in Livorno, Italy.  One of the reasons Italian craft beer has soared in the last few years is that brew pubs have little difficulty distributing their excess capacity to the plethora of beer specialty bars that flower in every city of size in Italy today.   Beer House Club somehow sorts out the disasters from the winners and lets you travel the peninsula without leaving your seat.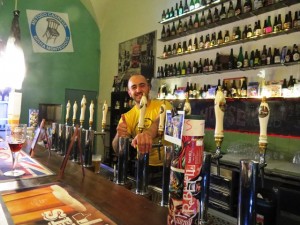 Tasting notes:  Copper malt is almost enough to hold the big hop dose.  Full body may suggest some residual sugar, but the end is bitter and still fruity.  You would expect to find a strong pale ale like this in an American brew pub, but it would have been a shocker even a few years ago in Italy.  Ben fatto, birrerie Italiane
Food Pairings:  You have to go to Italy to drink this beer, so forget American food.  It goes wonderfully with a good simple pizza, but really, why?  If you're lucky enough to find it at a restaurant that embraces local cuisine, try a squid ink pasta or best yet – Steak Florentine.   Beer Review # 0110    20170528
ON MONDAY WE'LL FEATURE A RETURN TO TRÖGS TO SCRATCH OUR HOPPY ITCH