SMARTMOUTH: STUPID GOOD DOUBLE IPA

Smartmouth Notch 9 Double India Pale Ale   Abv 9.1    IBUs  88
This week we're featuring some of our best Double IPAs of the 600 or so we have tasted since 2002.   We're pleased that a local entry not only cracked that barrier, but ranked in the top  1% of beers we've ever tasted. The brewery's slogan is Smartmouth-Stupid Good and it surely fits well here. 

There is a caveat, however.        We tasted this beer during Mad Fox's Hoppy Oktoberfest last fall (which is a wonderful event if you want to find new hoppy beers).  I'd like to think we were not impaired, but there is no doubt we were enthusiastic.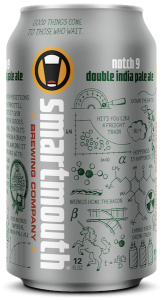 Even if Notch 9 might have received a bit of a boost, however, we're certain we'd enjoy it in any context; this bronze medal winner at the GABF is an exceptionally well made beer.
Our sense is that Smartmouth beers have been getting better and better in the past few years.   If we lived in Norfolk, we'd have a more authoritative view, but there's no doubt this this is from a brewery that knows what it's doing.
Tasting notes:  A rich and creamy malt provides a strong foundation for the towering hops.  Herbal, soft citrus, plenty of pine and earth, but it all plays well together.   Grassy and BIG as it drinks.  All those hop tastes could create chaos, but somehow they combine
     Food Pairings:  The brewery's advice is to pair it with "a plate of cured meats or bacon to boost the umami and saltiness of the dish. Pair it with a funky cheese like Stilton or sharp cheddar."  Good advice, much in keeping with most of the guides we've read.  Beer Review # 0103    20170412
THROUGH SATURDAY APRIL 15 WE'LL FEATURE A FEW OF OUR FAVORITE DOUBLE IPAs OF ALL TIME.