ESCUTCHEON CHEERLY KRIEK


 CHEERLY KRIEK, ESCUTCHEON BREWERY, WINCHESTER, VA       SOUR CHERRY ALE, AVAILABLE ONLY IN 75 CL BOTTLES   Abv   6.5     IBU  20
"Kriek" is more often used to designate a wild beer than a sour, though we'll admit to being in a very small group of brewing scholars who continue to try to defend a semantic distinction between the two styles.  We first encountered the style in the late 1970s in the Belle Vue.  Belle Vue produced a sweeter than usual range of lambic beers that never commanded the respect of the smaller craft-like producers such as Cantillon and Boon.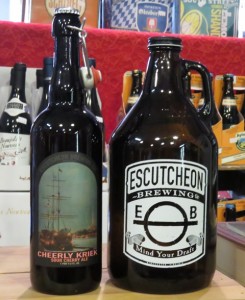 Despite claims that the flavor came as much from added sucrose as from traditional brewing techniques, we were impressed at the pains this good sized brewery took to age the Kriek beer for the two years required to fulfill the promise of spontaneous fermentation.  The best of the krieks, Boon's Marriage Parfait and Cantillon's Kriek are virtually unobtainable in the US and Belle Vue has been gobbled up and shut down in its original location by AB-InBev.  There are still good Belgian Krieks that make it to our shores, but some of the local products do almost as well in balancing the sour cherries, wood, and spontaneous fermentation that give the beer its flavor.
Escutcheon followed the Belgian procedure for their Cheerly Kriek –aging a lambic-style beer for a year in oak sherry barrels before adding fresh sour cherries and aging in several more months.   The result was commendably authentic.   But there's a catch.   In Belgium, the bigger lambic brewers get barrels in quantity, they don't pay for their yeast in anything other than time, and they pretty much have the mystery of spontaneous beer making down to a science.   All of that means they can turn out a 75 cl bottle of well-aged beer for well under ten bucks.  Add a few bucks for shipping, and you can pick up a pretty good kriek for well under twenty dollars.   We don't think Escutcheon is gouging anyone on the significantly higher price they charge for this versions of the style, but they don't have the economies of scale to match prices with the guys who do this all the time for a living.  The beer is commendable; Escutcheon's pricing – that puts it on the shelf of retail shops for over $40 a bottle is probably unavoidable, but unfortunate.  If you have a really good friend, get her to buy it and then share it.
Tasting notes:   It seems to capture the lambic-style "spontaneous" fermentation rather well with tons of funk and enteric sharpness in the aroma.  Some flowers and a clean malt make it more accessible than some of the more "authentic" lambics.  Woody and some sweet flavors emerge in the aftertaste that continue to contribute to its drinkability.  I thought they did a good job; Ellie thought they did a great job and rated it higher than any sour or wild she's tasted this year.
Food Pairings:  If you're paring wild and sour beers with food, you've got a tougher stomach than either of us has.   Michael Jackson said that beers like this should be the very first beer in a tasting or the very last.  We think this would make a good aperitif, some not-too-challenging cheese could smooth it out a bit more.  We'd also like to try this with a rich desert.  There's enough fruity dryness to balance more than its own restrained sweet notes.  Beer Review # 0091    20170326
TOMORROW WE'LL  LET THIS STAND AS A BEER OF THE DAY WHILE WE TAKE SOME TIME TO DIGEST IT.  ON TUESDAY WE'LL REPRISE OUR TOP RATED BEER THIS YEAR – SCHLENKERLA'S FASTEN BIER, WHICH WE'VE NOW HAD A CHANCE TO SAMPLE IN QUANTITY AND ON DRAFT.