THESE COOKIES ARE NOW OUT OF THIS WORLD
Name  Scåssenes (previously Ecaussinnes) Cookie Beer, Ecaussinnes, Belgium          Abv   8
                   Don't think scientists lack senses of humor.   The group that found Trappist-1, the star that has earth-like planets orbiting around it, has launched a project to find new worlds capable of sustaining life.   Their "Search for habitable Planets Eclipsing Ultra-cool Stars" produces the acronym SPECULOOS, a Belgian cookie that has become a source of national pride. The cookie is a mix of vanilla, shortbread and spice that some descriptions call cinnamon but tasted more to us of ginger snaps.  The cookie spawned a range a range of Speculoos products that include a somewhat disconcerting breakfast spread and, of course, beer.
               Today's post honors a beer from the recent past.  We tasted it in 2012 — the same year a small brewery opened in the Belgian town of Ecaussinnes.   That brewery struggled and passed on to a new management team in 2014 which renamed the brewery and discontinued the range of Ecaussinnes products in favor of a single theme — the Revolution of 1830 that resulted in modern Belgium– and three themed beers.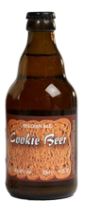 The Scåssenes brewery was still calling itself Ecaussinnes when we tasted it at Brugges's Cambrinus Beer Restaurant.   The brewery either couldn't get or couldn't afford the rights to use the name Speculoos, so they simply called it "Cookie Beer" and everyone in Belgium knew exactly what cookie they are referring to. If it weren't for the astronomers, we wouldn't feature such a gimmicky beer so close to our visit to Beaver Land on Friday, but it actually wasn't as bad as it should have been.
Tasting notes:  There's nothing subtle here – it's a cookie beer.   Shortbread, some vanilla and lots of ginger snaps with just enough malt character to occasionally remind that it is beer.   The aftertaste, however, stays cookie.
Food Pairings:  Obviously you can "complement" it with a plate of Speculoos cookies.  It would work with ginger snaps in the same way.  Other than maybe a good cup of coffee, which isn't exactly a pairing, he "contrast" is either something of a challenge or no challenge at all.  Almost anything savory would give you the contrast, but you'd have to have a sweet tooth to like what it's doing to your palate.  Pierre Zuber's Belgian beer blog gives specific suggestions, and they're as good as any, but we think whatever you choose will involve a good deal of speculation.  Sorry.       Beer Review #0074   20170227
Tomorrow Our Weekly "Hopping Around" post features ten pictures of Bamberg that we couldn't fit into the book. We'll feature some of Bamberg's best and most distinctive beers on our "Beer of the Day" blog this week.